LinkedIn is THE social media channel you need to be paying attention to if your in any niche that is even remotely related to business. Even some self improvement, health, relationship, etc. niches can get in on the action at LinkedIn too, but those of you within a niche that is directly related to business need to make sure you're using LinkedIn because it's a great place to get targeted traffic from.
But…  In order to get that targeted traffic you need to make sure you've setup an optimized profile! Here are the steps to do that…
Step 1: Your Profile Picture
LinkedIn is a professional network so you're profile picture should fit that. I'll show you mine and you'll see I don't really follow that rule, so … 🤷‍♀️😂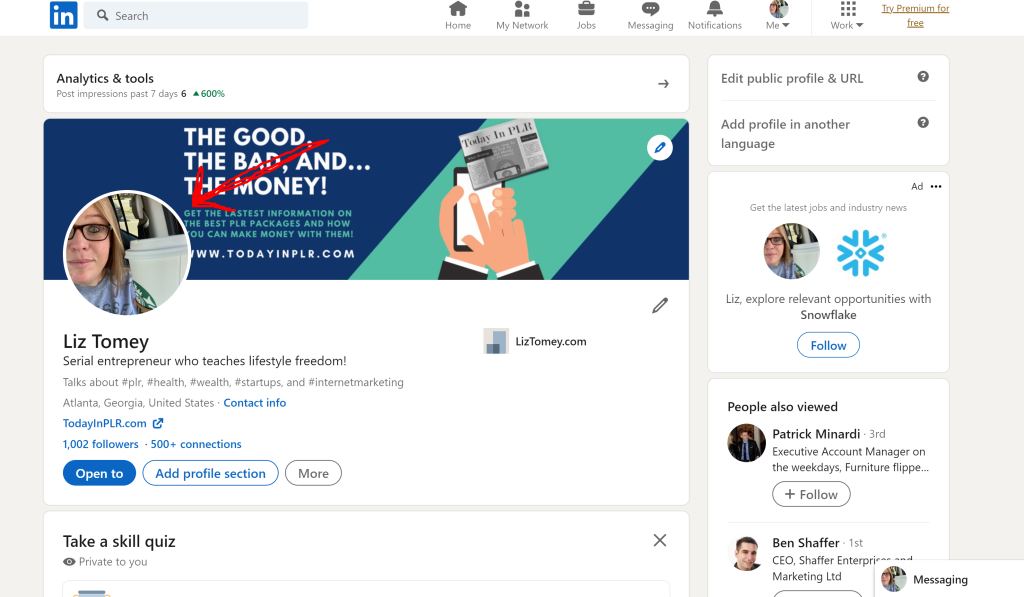 I mean I am holding coffee! That's professional, right? 😂
All kidding aside, do make sure you use a good clear semi-professional photo of yourself.
Step 2: Your Background Photo
The background photo is located at the top of your profile and is one of the first things people see when they come to your LinkedIn profile. I highly recommend you create something that drives people into your business. I have mine setup so it sends people who are interested in learning about PLR (private label rights) to my squeeze page so that they can get on my list. I have a very clear strategy here. I want my background photo to build my list! Create something that does SOMETHING for your business, and just make sure it looks professional.
Here's an example of mine…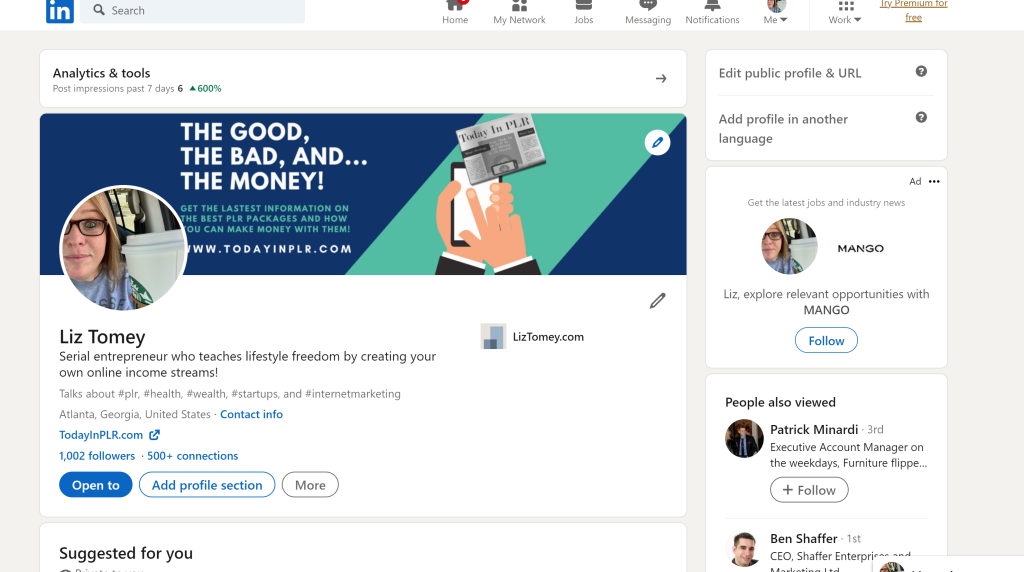 Step 3: Edit Your Profile
When you go to your profile you will see a pencil icon like this…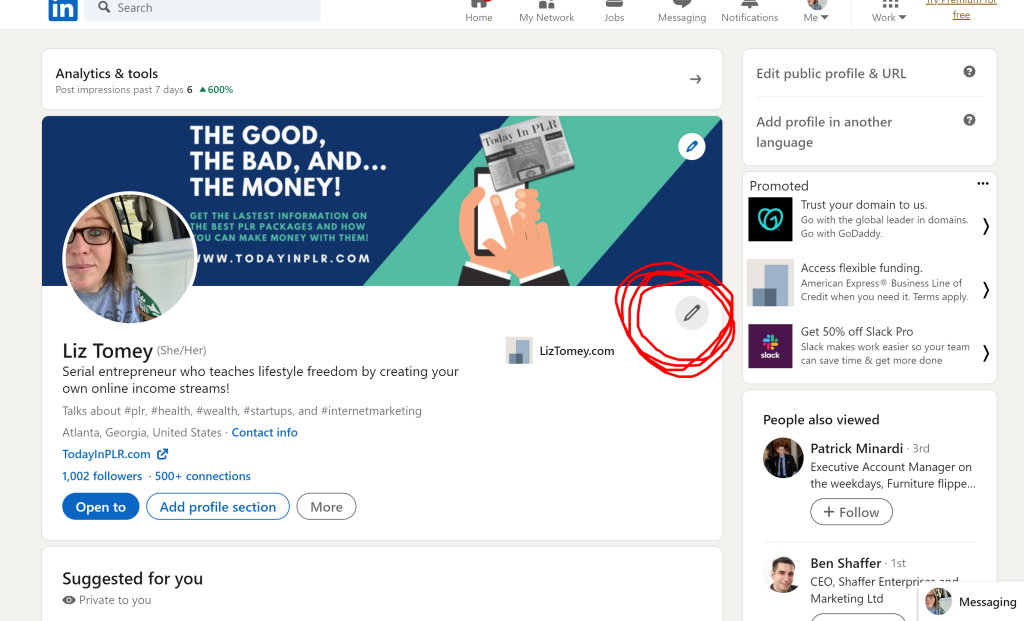 It's important that you fill out everything here. And, I mean everything! Take your time and really put some thought into this. Especially the *Headline area. You want to create the BEST headline you can in as little words as possible. Your headline is another spot that is seen by most people viewing your profile. You need to tell people the BENEFIT of knowing who you are. The benefit to THEM! I state how I help others right in my headline.
Of course other parts like your website, company info, etc., are also important, so make sure you fill out everything you possibly can here and be as strategic as possible!
Step 4: Featured Section 
Don't miss this section! Here you can feature posts you've made on LinkedIn, links to your other blog posts, videos, etc., and additional images. Get creative here and add things that lead people from LinkedIn into YOUR business!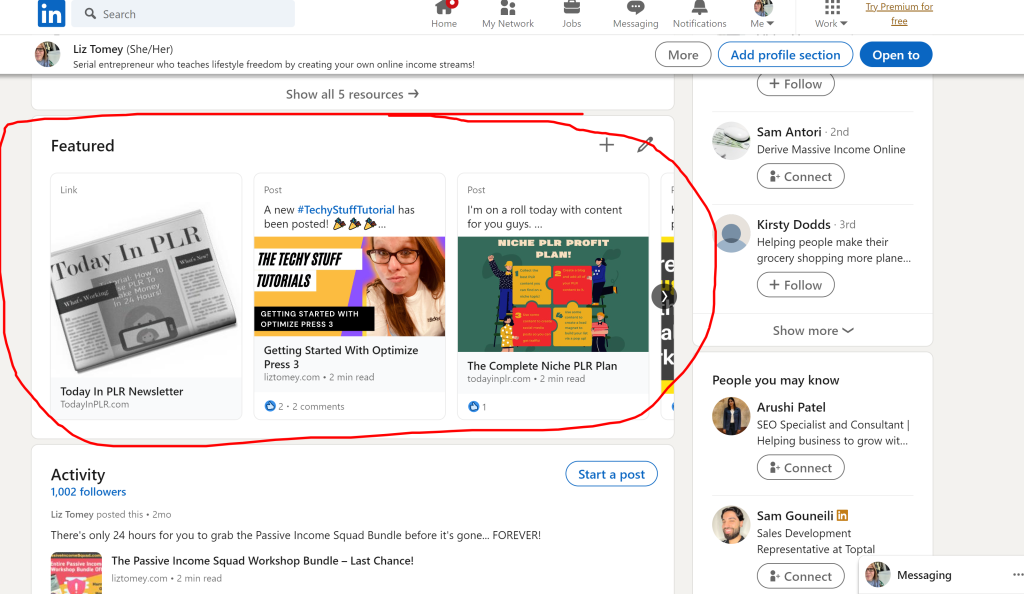 Step 5: About Section
This is another VERY important section, and you need to put some serious thought into what you write here. You have 2,600 characters and you'll find that's quite a bit of room to to create a great "about you" section.
You'll want to write this as if you're trying to get the person to add you as a connection on LinkedIn. Make them LIKE you, make them see they NEED to follow you, and make it all the about the benefits THEY get by knowing YOU!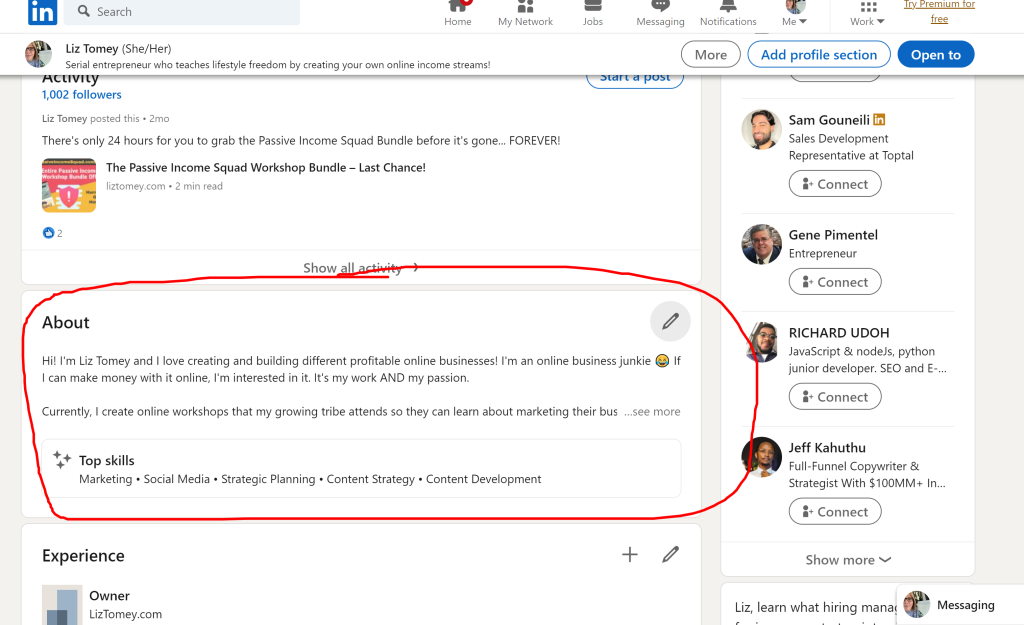 Step 6: Skills Section
This is super easy… Simply select the skills you have and add them to your profile. This shows people what you're GOOD at and they can even endorse your for your skills. That adds some weight to your profile!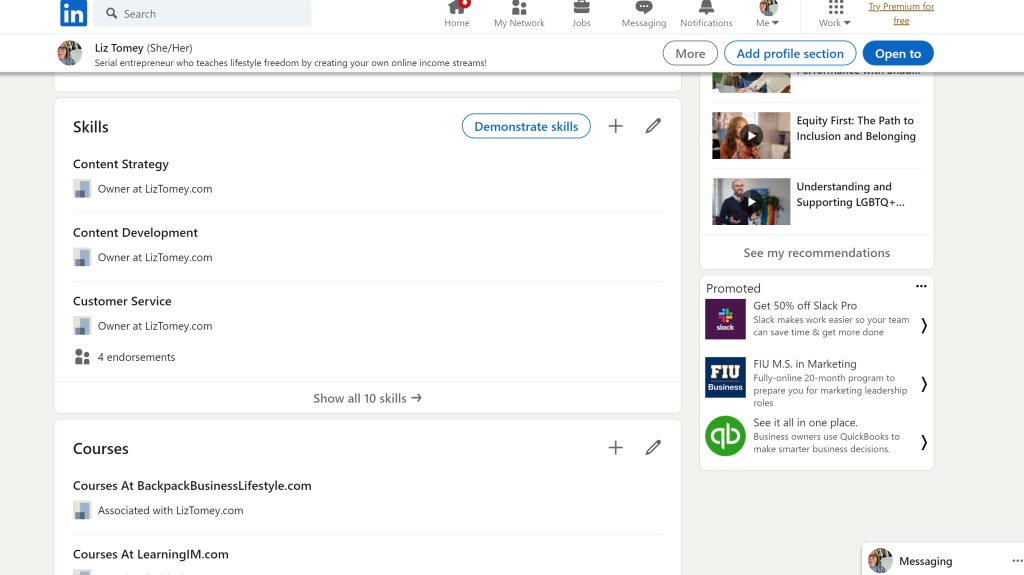 Step 7: Profile Topics
If you look at your profile you will see this…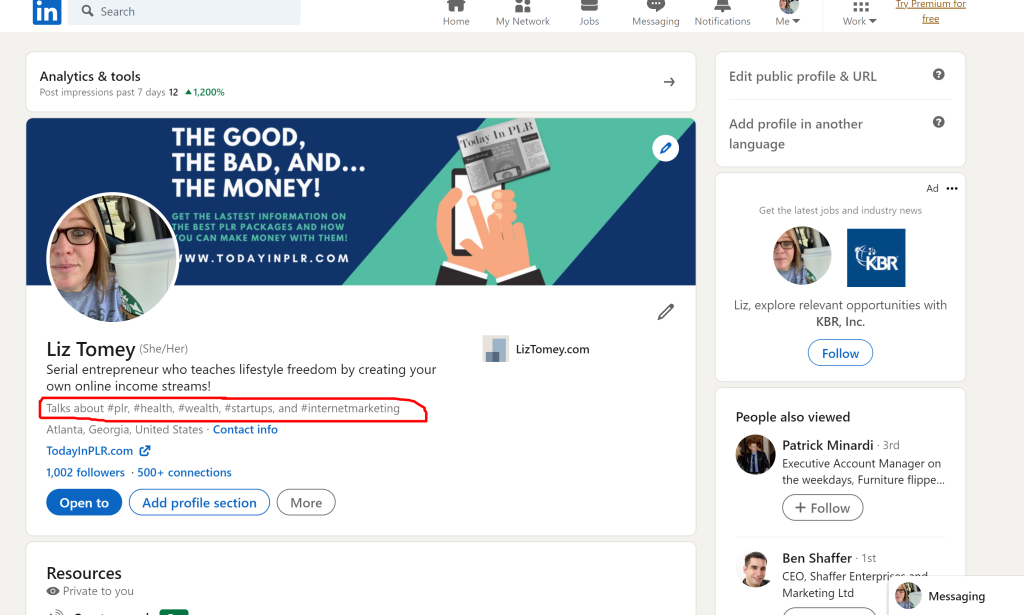 If you click on the analytics and tools link at the top of your profile you can edit these whenever you want.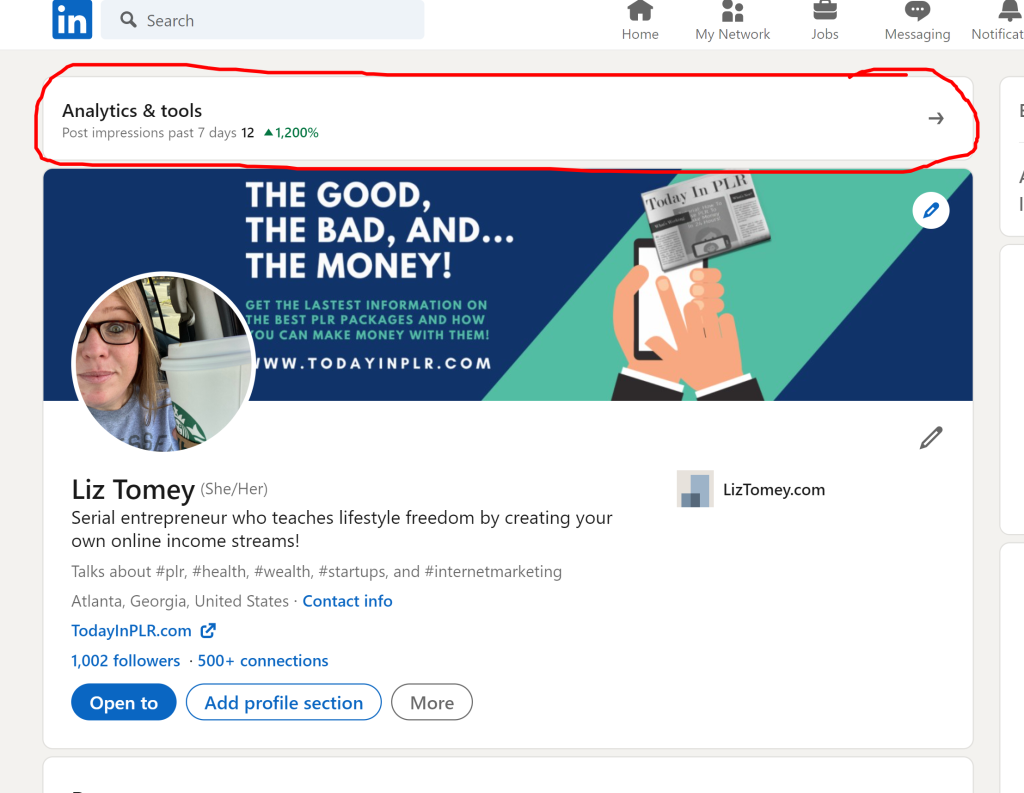 These turn into hashtags for your profile and are a great way that you can use to get found on LinkedIn. Plus, it shows people at a glance exactly what you talk about on LinkedIn. Don't skip this!
Note: You need to have Creator Mode turned on for this option to appear, so make sure you have that turned on!
Step 8: Add To Profile
Now there are so many other things you can add to your LinkedIn profile. If you go to your profile page you will see a button like this…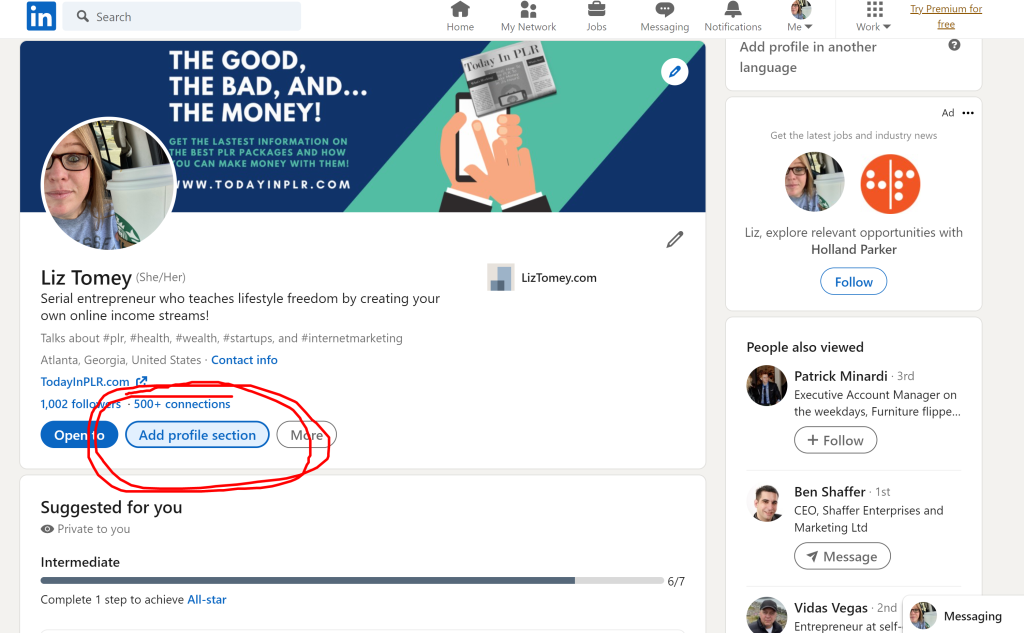 When you click that button you can see other things that you can add to your profile. Add as many of these as you can! For example I added a courses section to my LinkedIn profile because I have many courses. Look for other options you can add to your profile that are relevant to your business. Every little bit helps people find you on LinkedIn which can help you build your following and connections on LinkedIn. Every little bit counts!
Step 9: Customize Your Profile URL
And last but not least, make sure you customize your profile URL. I recommend you doing this for your name. For example here is my url… https://www.linkedin.com/in/liztomey
Notice it's Liz Tomey which is my name. Of course you can use any name you want, like a business or brand name, but my advice is to use your name.
You can edit your Profile URL by going to your profile and looking for the link to edit it as shown in the picture below…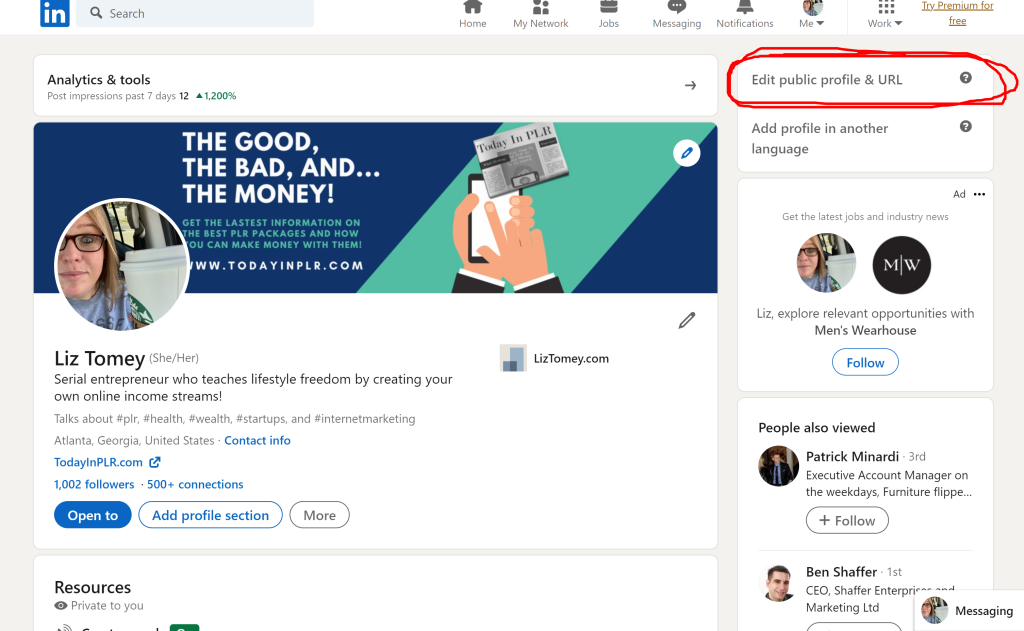 Okay so there's the MAIN parts you need to focus on when it comes to optimizing your LinkedIn profile. There are just so many options you can put on your LinkedIn profile and as you add more, more options are unlocked. As I have said… Make sure you are adding as many options and information as you possibly can. All these "little things" add up, and it just takes one "little thing" to help you get found on LinkedIn or pull someone from LinkedIn into your business!
Now, once you have your profile all created then I highly recommend that you start posting some content, start making connections, and interact anywhere and everywhere you can on LinkedIn. Go out and get eyeballs in front of that gorgeously done profile!
Comments or questions about what I've shared here? Did I miss anything? Do you have tips for this topic?
Then leave them in the comments below!
Talk soon!
Liz