Facebook pages have taken a big hit when it comes to using them to get traffic. No matter if you have 100 likes or 100,000 getting your posts in front of people has become a real issue.
The biggest reason is because Facebook wants you to PAY for your people to see your posts you make on your page. While that doesn't seem fair because we all work hard for those likes it doesn't mean the party is over. You can still use that Facebook page and you still SHOULD be using it.
Even if you don't want to "pay to play" right now you might want to in the future and having your Facebook page setup strategically and with good content on can give you a huge advantage when using paid advertising and/or getting more engagement if you're just trying to get your "fans" to see your posts.
Here's a complete step-by-step tutorial on creating your Facebook page… Strategically!
Step 1: First head over to the page creation page on Facebook at https://www.facebook.com/pages/creation
Select if you'll be creating a page for a Business or Brand OR Community or Public Figure.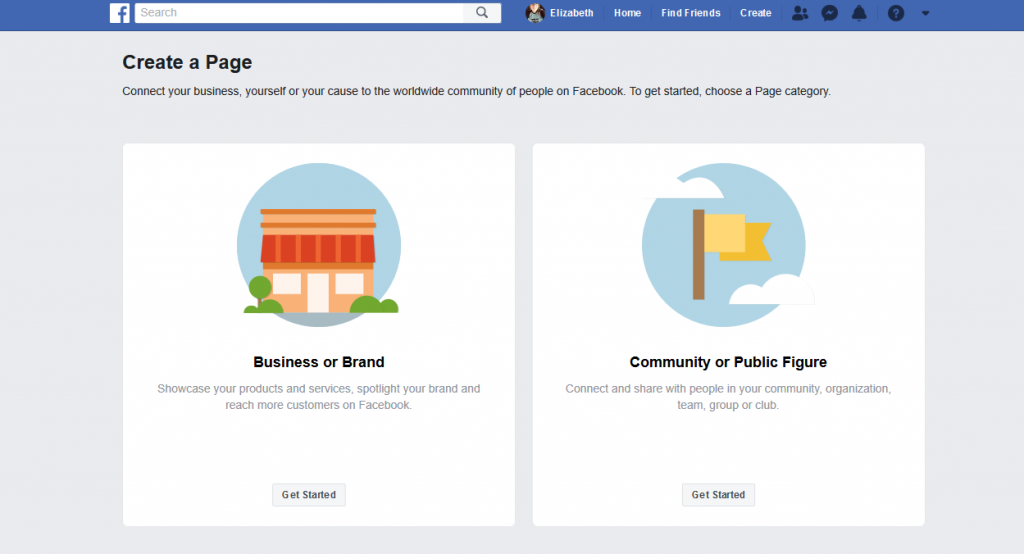 Step 2: Add Your Profile Picture
When it comes to your profile a picture I don't recommend your logo. Especially if you're the face behind your brand. Pick a good picture of YOU. This really helps with the bonding with your audience. A logo "looks" nice, but putting a face to a brand/company goes WAY further with your people!
Step 3: Add Your Cover Photo
This is pretty important and needs to convey the number 1 thing your page will do for people. There are great tools out there like Snappa or Canva that you can use to create your cover photo, but I recommend using a professional. You'll save a ton of time, and get something that actually looks GOOD. I can't tell you how many times I get turned off from a page because their cover photo is ugly or doesn't tell me exactly what I'm gaining by following the page. Make sure you photo cover makes people want to follow your page!
Step 4: Go Through ALL Of Your Settings!
This is going to take about an hour, but it's worth the time. Go through ALL settings on your page. Check every single setting and make sure that you have everything setup correctly so that those who like your page can interact, share, etc with you. Don't skip any setting. Read it and understand it and set it to what YOUR comfortable with.
Note: In the Facebook Traffic Takeover Workshop I go through each of these settings with you. You can attend that workshop at https://LearningIM.com/facebook-traffic-takeover-workshop
Step 5: Fill Out Your Pages About Section
Another VERY important part of your page is the About section. Fill EVERYTHING out especially the Story section. Those who read this will become very loyal fans if you have a good story to back up the mission of your page!
Step 6: Make Your First Post
At this point your page is ready to go, but I recommend doing one more thing. Create your first post and make it a post that explains what your page is about and/or where people can get on your list and/or buy from you.
I created my first post about the mission of my page and where they could get on my email list to get updates from me. Anyone who comes to my page will see this post and be able to get on my email list and start getting all of my emails. That's the number one goal of my page. Get people to take action on YOUR number on goal for your page.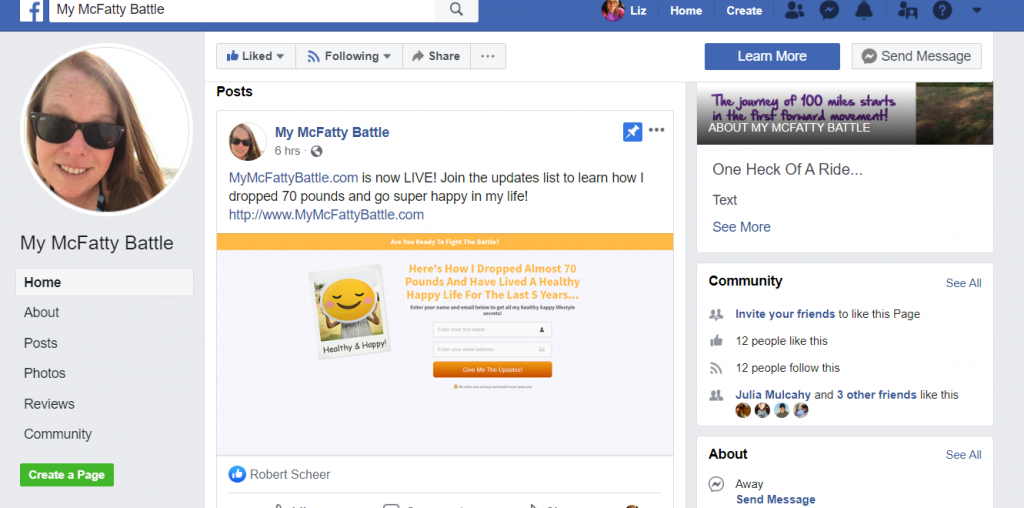 Okay so that wraps it all up.
My biggest pieces of advice here are fill out EVERYTHING, use great looking graphics, and make sure you have ONE goal for your page.
I wish you much success on your Facebook marketing journey!
Liz