Ah… Pinterest! How I love thee! Let me count the ways…
1 hour gone…
2 hours gone…
3 hours gone…
I am so addicted to this site and so are many others.
Since I'm completely OCD this site is like therapy to me. I can look at so many things I'm interested in and "pin" them into "boards" I create and everything is nice and organized.
This is equal to when you have water in your ear and you use a Q-Tip to get in there and get all the water out. Know how that feels?
Well… That's what Pinterest is to me. 🙂
Now on the marketing side of things (which is really what matters here) is that you can get a lot of traffic from Pinterest. I've just started on the marketing side of things with Pinterest, and I'm super excited about my results.
If you'd like to start getting traffic from Pinterest then make sure you get your profile setup correctly.
Here's how to do that…
Step 1: Your Username
Just like I've advised you on all other social networks. Make sure the username you pick is the same across all networks. So make sure you choose a username that is either your name OR your business name. Just keep consistent across all social media sites.
Step 2: Your Profile Picture
Again use a picture that is of you or your brand, and make sure you're using the same one across all networks. You can "jazz up" the profile picture you use on Pinterest (because it's a place for the creative), but make sure it has the same look as your other social media profiles.
Step 3: Your About Section
Pinterest has an about section where you should talk about what you share with a call to action for others to follow you. That call to action is so powerful, so use it!
I also throw a link (although not clickable) to my website in this section.
You've only got 160 characters, so use them wisely!

Step 4: Create 5-10 Topic Specific Boards
Now let the fun begin! Make a list of 5-10 topics related to your business and create a board for each topic. I ONLY use my Pinterest account (I have another one for personal use) for things that are related to my business. I suggest you do the same thing!
Since my business is related to Internet marketing and creating an online business all of my boards are about this.
I have some health related stuff on there too, but that's because I think your health is vital to being and doing your best so I include that stuff too.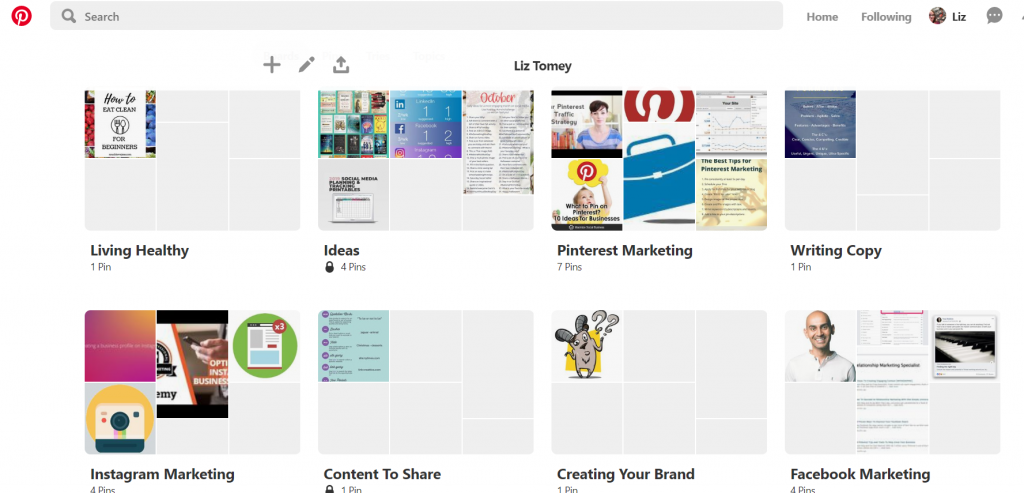 Step 5: Go Pin Crazy
Once you've created your topic specific boards go out and start pinning 10-20 pins to each board. You want your account to have some content!
Now don't just pin anything. Pin things that can actually help/entertain people who visit your profile. Don't fill your Pinterest account with crap. Only the best makes it here.
And of course you should be pinning ALL of your content here. Content from your blog and even your YouTube videos!
Step 6: Follow 5-10 People In Your Niche
As your pinning take note of people who have lots of pins related to the topics related to your business. Follow those people!
Why?
You'll always have things to pin AND they may pin your pins exposing you to THEIR followers.
Mainly though you want to do this because Pinterest IS a social mediate network and you NEED to get social over there. 🙂
Hot Tip: Install the Pin It button on your browser. As your researching or "surfing the web" as us "oldies" say you can pin things you find on the fly. I use this button SO much!
Okay at this point you should have a great Pinterest profile ready for you to start using it to get traffic!
Comments or questions about what I've shared here? Did I miss anything? Do you have tips for this topic?
Then leave them in the comments below!
Talk soon!
Liz