YouTube is a completely different type of social media site with completely different tactics to use to get traffic.
But it's a HUGE one if you do it right!
The first thing you need to do is make sure that you get your YouTube channel setup correctly. This is basically what would be called a profile on other networks, but YouTube is video based so calling it a channel makes sense. I guess… Whatever! Google owns it and US so they can call it whatever they want. I kid! 🙂
The main goal of your YouTube Channel is to get people to subscribe to it. You need a good looking channel branded to YOU (or your brand) that makes people WANT to subscribe, and that's what we're going to be talking about in this post.
Side note: There are a few things and a few different goals depending on what you're doing in YouTube. For example… I create videos and optimize them for search so I can get as many eyeballs on them as possible. Each video also has a call to action to come to a link or some thing I'm talking about in the video. Here we're just talking about getting your channel setup. I'll have many more posts on using YouTube to get traffic.
So what do you need to do to get your YouTube channel all setup?
Here are the steps…
Step 1: Create And Name Your Channel
Since I'm branding myself I created my channel using my name. You can use your name, company name, or brand name. Just make sure you're using the same thing across all social media sites to stay consistent.
Step 2: Your YouTube Channel Icon
Because I'm using my name I used a picture of myself for my YouTube Channel icon. You can do this or use a graphic that represents your company or brand. Again… Just use what you've used on other social media sites.
Step 3: YouTube Channel Artwork
This is the big header at the top of your YouTube channel. I use the same one on Twitter, my Facebook fan page, and here on YouTube. I do this to stay consistent and recommend that you do the same thing.
This graphic should depict what you (or your brand) is all about. It needs to make viewers stop and investigate you so you can get them to subscribe to your channel.
Here's what my YouTube channel looks like…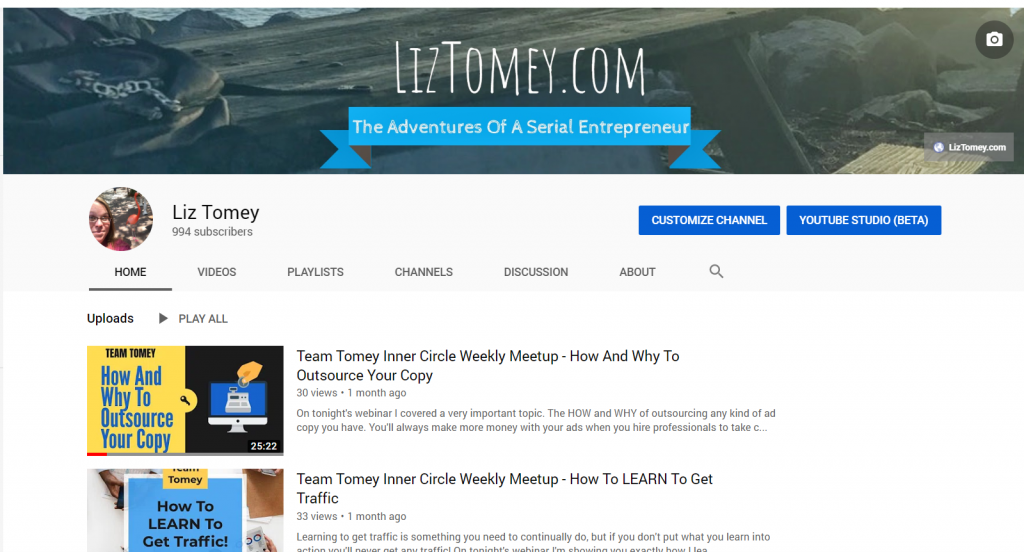 Step 4: Your About Section
Make sure you utilize this section to it's fullest.
Explain what you (or your brand) does, and what benefits people will get by being a subscriber of your channel. Make sure you also have a call to action to tell people to subscribe to your channel.
You can access this by clicking on the Customize Channel button when you visit your channels home page.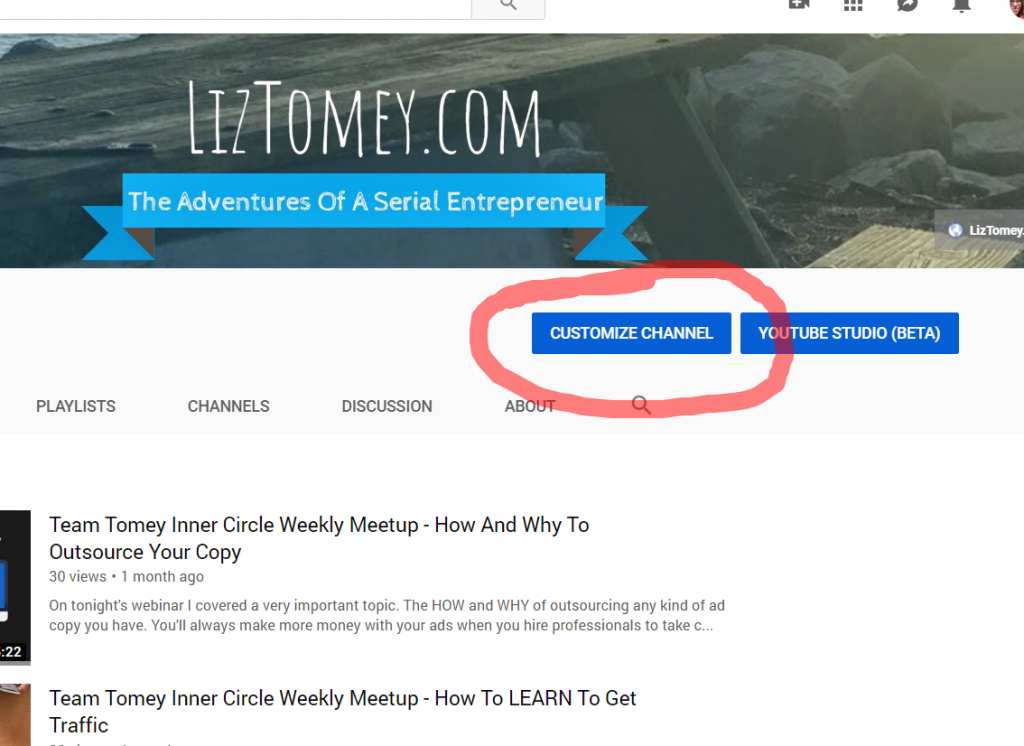 Step 5: Channel Settings
Go through ALL the channel settings and get yourself familiar with everything.
When you click on the Customize Channel button in the top right hand corner you'll see a "gear" icon. Click on it and it will take you to your settings.
A few things you'll want to pay attention to…
a. Add your contact details
b. Add your link
As I said though… Make sure you go through ALL settings!
Step 6: Create A Channel Trailer
When new visitors hit your channel the first thing they'll see is your channel trailer. You need to make sure you create one that tells people exactly what they'll gain by watching your videos (benefits, benefits, benefits) and then have a call to action asking them to subscribe.
A simple "cell phone" video of you just talking into the camera will get the job done here. Plus by seeing you people will start creating that bond with you that you need to keep them coming back to watch your videos. Make sure you have a call to action to get people to subscribe in this video too.
This should be a short 2-3 minute video. People have the attention span of gnats and you want to get them clicking that subscribe button quickly!
Step 7: Add Your Videos
Now it's time to add your videos. And that's going to take A LOT more tutorials to teach you to do, so hold that thought!
Creating your YouTube Channel takes some time and planning, but don't let that stop you. There is so much traffic to be gotten from YouTube and you're really missing out if you don't work this social media site.
If you complete the steps above you'll have a great foundation to get started with. Now it's all about creating videos, uploading them, and optimizing them to get as many people seeing them as possible.
We're going to be talking about YouTube a lot here, so stay tuned for some great tactics!
Comments or questions about what I've shared here? Did I miss anything? Do you have tips for this topic?
Then leave them in the comments below!
Talk soon!
Liz