Unless you've been hiding under a rock you know that engagement on your Facebook page has plummeted!
Gone are the days when you could just post to your page and all the people who have liked it would see your posts.
Facebook doesn't care that people have liked your page, turned on Notifications, or any of that stuff you worked hard for. They're simply NOT giving you the visibility to your people.
It's their game and their rules, so you either play by them or find another way to get traffic.
For me… It's totally worth it to do the extra stuff to actually get my posts seen and that comes down to using "engagement tactics".
These are things you do to get the people who see your posts to react, comment, and/or share your content.
Those are big indicators to Facebook that people DO want to see your stuff and will give you MORE visibility.
If you want serious visibility to your people you're going to have to use their paid advertising platform though.
If you STILL want to use your Facebook page for traffic, but you DO NOT want to use their paid advertising platform then you can use these engagement tactics to boost your organic reach for your Facebook page.
Tactic #1: DO NOT use automation. There are all kinds of software and WordPress plugins that will take every post you make to your blog and post them to your Facebook page. This will KILL your engagement. Take a few seconds, write a short blurb about your blog post, have a call to action that makes people want to click and read, and post the link to your blog post. YES! It does take a bit more work, but it's worth it.
Would you rather put NO effort in and get NO results or would you rather put a LITTLE effort in and see some results?
Tactic #2: Don't just post your blog posts. You need to be posting other kinds of content too. Memes, quotes, videos, pictures, and all the stuff you would normally post on your regular profile post on your page too. Just make sure they are related to your niche or the personality you bring to your page.
Tactic #3: Make posts that tell people to turn on notifications for your page. Now as I said above. Facebook isn't giving you total visibility to everyone who does this, but the more people who do the more visibility you will get which will give you more engagement which will give you even more visibility.
Whew! That was a mouth full.
Something I have done is every 6 weeks or so I will make a post about turning on notifications.
Here's an example of that: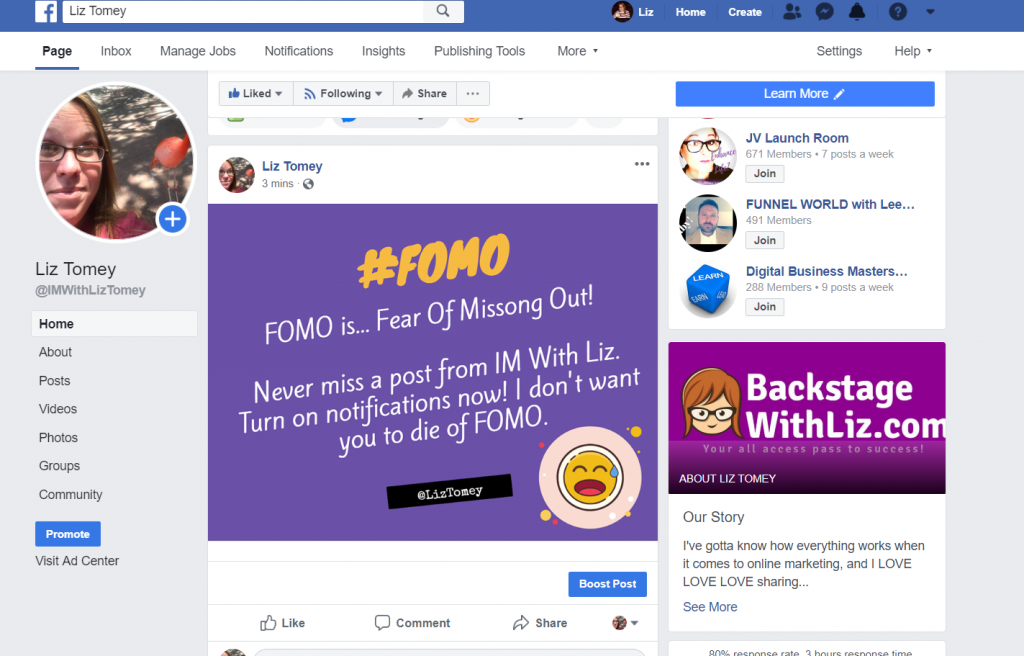 Tactic #4: In Tactic 2 above I told you about posting different kinds of content. One of the best kinds of content that Facebook and it's users love is VIDEO! Any kind of video that you do, be it screen capture or talking head videos or whatever make great Facebook content that will get even more engagement.
Tactic #5: Facebook Lives! Of course Facebook is going to give more engagement if you use something of THEIRS. 🙂 Pick a topic related to your niche, make 3 bullet points about the topic, and talk about each point for 1-2 minutes. That's all you've got to do. Short little Facebook lives a few times a week make great content that Facebook will give you more visibility for!
Tactic #6: Be consistent. The optimal amount of times to post on your Facebook page has been proven to be 1-3 times a day. Pick 1, 2, or 3 times, and do it DAILY! The more consistent you are the more visible you will be on Facebook.
Tactic #7: Tell them what to do. It seems a little SPAMMY when every post you make says to like and share it, but telling your people to like, comment, and or share here and there is ok. Just don't do it all the time.
Tactic #8: If you have a Facebook page related to your business or your niche chances are you have people who are your actual Facebook friends who will be interested in your page. Make a post about your page or share something from your page to your profile!
Tactic #9: Get your people talking! The best way to get people talking on your page is to ask questions. Ask them questions related to problems your business solves or problems they may have related to your niche.
Here's an example of this: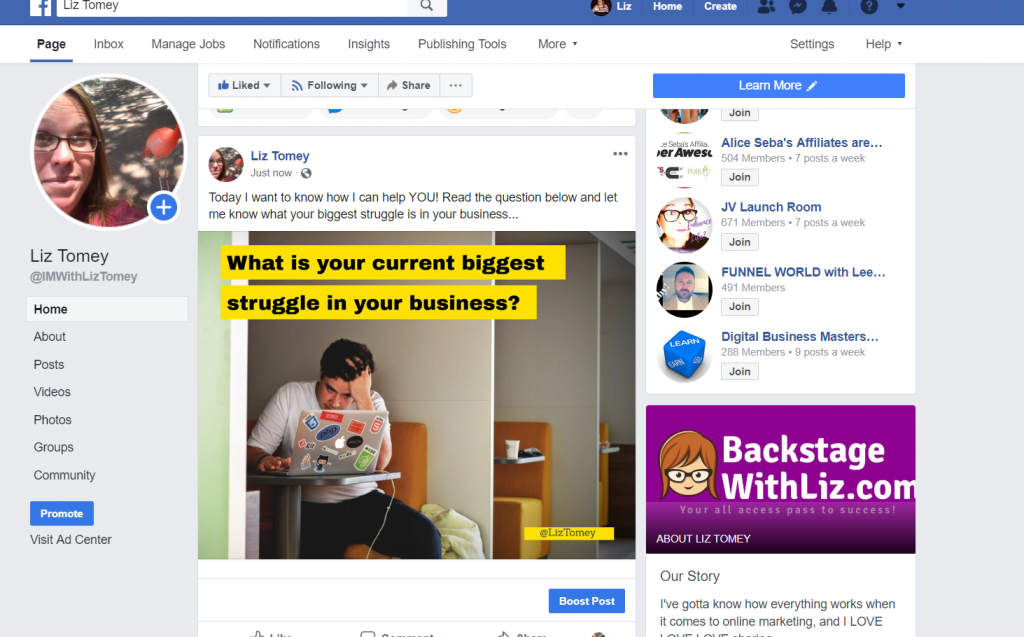 Tactic #10: Run a contest! With so many apps and software out there it's super easy to run a content on your Facebook page and this can give a HUGE boost to your engagement. Just do a search on Google and see what tool would be best for you or if you even need a tool at all.
I've done contests without tools by just picking someone at random to win the prize. Just tell people they have to take a certain action (like, comment, and/or share your post) and they have a chance to win your prize.
Important note here… Make sure whatever you're giving away in your contest is something your people actually want REALLY bad!
Tactic #11: If you're like me you do all kinds of things in your business. You're emailing, your making content, etc. Keep track of what you do through the week and then take 5-6 of the best things and create a weekly round-up post. You should do this every week. People LOVE these because you can condense everything down into one quick bit for them.
Tactic #12: Interact with other pages as YOUR page. There's a cool function that Facebook has where you can post and like as your page on other people's pages. Use this function to get more people coming to your page and liking it.
Okay so there's 12 different tactics that you can use. I recommend you print this post out, circle the tactics that you want to use, and start using them as often as you can.
We're in an uphill battle with getting people to see our content on our pages, but if you put in some effort you can still get people engaging with your content and bringing them OFF Facebook to YOUR business!
Want to learn even more ways to use Facebook to get traffic? I've just created a workshop called The Facebook Traffic Takeover Workshop. Join me for 5 days online as I show you how to use your Facebook profile, your business page, Facebook lives, Facebook groups, and more to get a ton of traffic to anything I want 24/7! Join at https://learningim.com/facebook-traffic-takeover-workshop
Have comments or questions about this post? Have tips you'd like for me to include here? Just post them in the comments below!